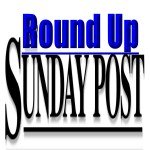 This is the season when we all get busy and looking forward to the festive season for me i am looking towards this one as it has been twelve years i have not spend a Christmas in my homeland although many don't celebrate this time of the year and many can not afford to my love and heart goes out to you all. Now back to blogging many might have notice that i have not been very active lately been here in the Caribbean the internet connection are not as fast as i use to but hoping it will get better. Sunday Round Up features four great article this week i do hope you enjoy them.
(1)Is there life after losing your regular job? – On the face of it, this looks like a silly question to ask. When others lost their job, I seemed to somehow ignore the calamity. But when I lost mine, my world came crashing down. What will happen to my mortgage and insurance were the first dreaded questions which came to my mind. It's not easy to deal with life after losing a job but if you can absorb the shock and move ahead, this misfortune can be turned into a beautiful life.
(2)Common Mistakes in Branding Campaign – Some business ignores the necessity of branding their business. Believing that products and its quality are enough to sell it. You may have the best of quality products in this planet but it would not matter if people don't even know that your product exist in the market. Though the traditional word-of -mouth or referrals gets you more valuable customers branding is still necessary in growing your business and establish a good reputation in your industry. Having a strong brand demonstrates what makes you different among others who are offering the same product or service.
(3)Viral Content Marketing: Creating, Promoting and Scaling Content – Last Saturday, October 29, 2011, I presented about Viral Content Marketing at Mastering Online Ranking Conference. MORCon is one of the most awaited yearly SEO conferences in the country, as several of the country's top-gun SEOs unite to share their knowledge (and some of their secrets) about the online marketing industry to our small local community of Internet professionals. I was lucky to be invited to present at this event and definitely fortunate to receive a lot of positive feedbacks about my presentation, given that it was my first ever speaking gig. My slides from MORCon are below, and I might also upload a video of my presentation (though it's in Filipino) in the coming weeks. Any questions about the presentation, feel free to drop a comment below.
(4)8 Best Christmas iPhone 4S Apps Worth Installing – iPhone 4S is a craze since its launch and if you have recently bought iPhone 4s then you must try to install Best iPhone 4S Apps . It is December and time for Holidays, to make your Christmas memorable here is a list of best Christmas Apps for iPhone 4S. 8 Best Christmas iPhone 4S App 1. 25 Days to Christmas: 25 Days to Christmas is a free app available for iPhone 4S users by MagicSolver.The app will provide you with a free app everyday with beautiful Christmas melodies.If you to change the tunes of Christmas melodies then just shake your iPhone.The developer has tried to pick the best 25 apps as gifts.
That is it for Round up fee free to read the full post by visiting the respective blogs