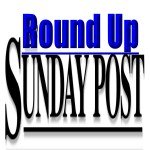 Sunday post Round Up is back with some must read articles the featured one for me this week is number one. Search Engine Optimization is a topic i read a lot about not an expert by any meads however Seo Guru Zarko ask a few bloggers who i consider myself as very knowledgeable in this are atopic about link building and each one has his version so what does that tells us? As Zarko said in response to my comment what works for one blog/website not necessary works for the other.Feel free to read the full post and share your opinion.
(1) SEO Experts Answer – The Most Effective Link Building Strategy – Just got a reply from Rand Fishkin, like I said, the guy is just busy, from my experience he is always ready to reply, and what a reply I got from him! Over the past few weeks we have been concentrating on link building as a centre topic on this blog. I know some of you think the sun shines out of my… with my slick advice and all, but I thought it would be a good idea to offer insight from the top SEO's in the market today for one simple question:
(2) Speed link V18/2011, No follow, Link Building, Twitter, Unusual Interview – Hi everyone. Hope you all had an awesome and productive week. This week, I took the time to set up some new niche sites (Amazon powered) and dedicated a bit on hunting for expired domains. These are experiments I am currently running and as soon as I find out how they turn out to be, I will be sharing them here with you, regardless of the outcome. Sorry for the delay in posting my Speed Link today.
(3) 4 ways to make your blog posts more interesting – guest post by Bridget Sandorford Whether you have been blogging for several years or if you're new to the blogging world, you are probably already aware of the fact that sometimes it can be extremely difficult to find inspiration to write a post for your blog. If you're struggling to think of a great post idea or topic, or if you find that your posts are becoming stale and boring, here are four easy ways you can spruce up your blog and make the posts more interesting and inspiring to your readers…
(4)Twitter sued for 'breaking' UK super injunction. Oh yes. – We've been watching the British legal system turn itself into knots for the last couple of weeks, largely due to the ability of Twitter users to break just about any legal 'super injunction' a 'celebrity' (usually footballers) has on the reporting of their private life (usually affairs). So far so normal for Twitter. What's a super injunction? It's when someone rich (these things are very expensive) takes out an injunction on the press that not only stops them reporting something but also stops them reporting that the injunction even exists. That makes it 'super', which of course it is anything but.
(5)The Successful Affiliate Marketing Blog Will Be Closing Very Soon – This week we end Round Up on a sad note i pop over to Roberts Blog and found out that he is closing is blog Well Robert has been a great friend and a very experience blogger who covers affiliate marketing lets all wishes him all the best for the future.
Please feel free to visit these website and read the full article and share them with your friend. This week the rumours hit the web as it was predicted that the world will end, well if you are reading this post then we a still alive.On a tech note What do you think about the new Face Book comment system?