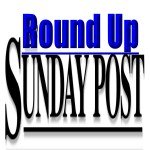 Sunday post Round Up is back with some must read articles. This week Round Up focus on some mixed topics no Seo topic this week. However i do hope these post or of interest to you all as Round Up continues on its journey. This week i have been a bit busy and did not surf the web much. I must take this moment to thanks all of you that continue to support this blog and for all the wonderful comments and feedback you all provide. I must tell you that i appreciate the time and effort you all made to add your voice to the debate. Thanks again and here is Round Up.
(1) Hard work and smart work – Differences in working styles.– Are you a hard worker or a smart worker? As a hard worker how do you define your working style and its advantages and disadvantages. Let us examine this question in detail. Major difference w.r.t. working style A smarter worker is the one who does thing smartly. That means he knows people from whom he can get work done and will delegate to them. He is more like a merchant who is out to make a sale. He believes in delegation of work while keeping minimal amount of work with him. He believes in coordination and managing things.
(2)10 Tips To boost Gross Profits Margin With Mobile Promotion – The technology advancement in the cell phones industry that has iPhones, New smart phones, Blackberry models, Google android phones, Samsung phones and Erikson phones etc, has created a fastest growing phenomenon as popular Mobile search. It was announced in April 2011, that Smartphone Market share on the rise. IDC expects the word wide web Smartphone market to grow by 49.2 in 2011, as both consumer and enterprise sector replace their feature phones for something a bit more advanced. Pc market is also growing because of the sales of tables all kind of e-readers and electronic books
(3)How To Build High Quality Sites – Building High Quality Sites Building high quality sites is really not that new if you consider the countless amount of information available to you on the internet. As a matter of fact, I think that it is widely spoken about topic, the difference being that most of the information out there are just being said in several different ways.
(4)How to Hide Recent Activity on Facebook – If you are an avid user of Facebook, you might be wanting the feature of hiding your recent activity from your friends in your profile. This is because some Facebook users do not want to share their recent activities for privacy. This feature was not available to hide their private activities on Facebook in the past. But finally, Facebook rolled out the feature allowing users to hide their recent activity on Facebook.
(5) Footprints Tracks iPhone/iPad/iPod Touch– We are aware about the issue of iPhone tracking location data and Apple released iOS 4.3.3 to solve the issue. However,if you want to track the location of your friends and family then here is perfect app for you named, Footprints.No need to worry as Footprints tracks the locations with the permission of user.To use this app you need to install it in idevice which you want to track ofcourse, for this you will have to get the permission from the person whose device you want to track.Then you can track that device from another idevice.Simple icon smile Footprints Tracks iPhone/iPad/iPod Touch
(6) How To Find, Compare And Evaluate Different Hosting Plans, Tips And Tricks To Get A Good Hosting Plan- If you want to learn how to compare and evaluate different hosting plans with an affordable price, then you must pay close attention to this post. There comes a time in every webmasters will need to switch web hosting companies for one reason or another, but often this process can get confusing for many of us. The success or failure of your business online just might depend by technical knowledge which you may not have. If you make a little research online, many hosting directories are confused due they are full of online billboards with marketing hype and flashing ads. So, you may find it difficult choose the best web hosting company to your needs.