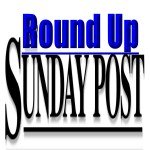 I just love Sundays' do you? Every Sunday i feature my weekly ramblings and sharing some fantastic post that have been shared on the web, some you might have seen some you might have not. The best way to get your post featured here is to visit this blog and support the conversations here or simple recommend a post to me and i will include it here in the next "Round Up" just on a quick note the ramblings seems to continue about the Google Panda/Farmer update. Did you know that Round provides a natural way for your blog to gain back links?
(1) Biggest Google Failures so far – Google Graveyard – There is not a soul in the modern world that hasn't heard about Google. We as web masters and SEO's heavily depend upon the all might Google for our piece of income and out future, so what would happen if Google itself was to become another Google failure and join the already full Google Graveyard? here is a great Info graphics by people from Word Stream, enjoy!
(2) Dealing with Google Panda in easy to follow simple steps – A lot is being written about Google panda these days. I am still to feel anything in relation with the same. Yes, Panda as being written about deals with some major updates in Google search algorithm. This update is believed to have taken very recently and interestingly, instead of being taken positively, this update has welcomed fair amount of criticism from those affected. Google Panda was designed to push high-quality sites up and demolish low-quality "content farms, and quite rightly,
(3) To buy or not to buy…..that is the question? – This is part of my Patricia's Ponderings as I ask a few questions and hopefully arrive at some answers. As always, your thoughts and comments will be appreciated. Many of you add valuable input to each post. I'm sure this will be no exception. Marketing & Business Support Group My regular readers know I am now concentrating on marketing blogs and learning as much as I can about marketing my products.
(4) Can Google Detect Spun Content? A Case Study – I am conducting a massive test as we speak on this very subject. I have two article directories on my blog. One is a static directory and the other one is a spinner directory. I will not post links to them, because I don't want to get in trouble here. I have a particular seed of moderate quality planted in my spinner directory that shows a unique spin every time the browser is refreshed along with the HTML.
(5) How to Get Thousands of Visitors and User Sign-ups in a Day – Today was quite an exciting day – mainly because I was already excited to write this post up just after waking up. What I think I felt this morning was destiny talking to me directly. I guess the perfect way to begin this short story is to start off with how the day started. My morning routine is not quite unusual; it usually starts with me going online on Skype, checking my mail, my new Twitter account, my blog's dashboard and smoking my first stick of the day.
(6) What to Do When You Are Not in the Mood – Here's the situation. You have a blog post, eBook, article, etc. that you want to write about. Maybe you just thought of it, maybe it was assigned to you, or maybe it's been a topic sitting on your "to be written about" list for ages. So you've sat down, you're looking at that blank text entry field. And nothing happens. Maybe you type in a few words, maybe you just stare at the emptiness.You are just not in the mood to write this content.
There is it for this weeks' Sunday Post Round some great stuff and some new comers here too lets share these post and keep on eye out will give on update soon on the Digg experiment. That's it for this week Round Up have a great week a head. Sharing is caring so spread the love.